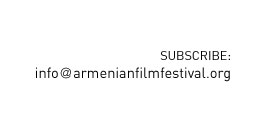 Download guidelines & submission form below.
The Armenian Film Festival started in New York City in 2002. After a successful three-day screening, the co-founders bought the festival to San Francisco and joined with a group of organizers in the Bay Area. The New York and San Francisco team or organizers joined together and the first San Francisco Armenian Film Festival in 2004 and 2006 were successfully produced.
The Armenian Film Festival holds a bi-annual festival of works by independent filmmakers that presents the diversity of Armenian culture across the globe in any cultural, linguistic, and geopolitical setting.
The festival presents films and videos, features and shorts, documentary and fiction, narrative and experimental works by and about Armenians. We are interested in all forms of work – narrative and experimental, documentary and
fiction, drama and comedy, features, shorts, music videos, children's films, and animation.
This year, 2008, the festival will focus its efforts on smaller-scale screenings with other arts and film venues. The festival is accepting submissions for these projects.